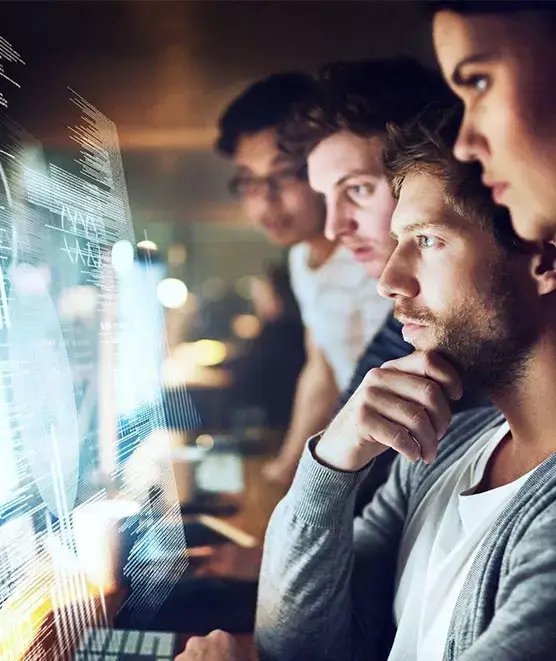 About Cyber Vast Consulting
At Cyber Vast Consulting LLC our focus is geared towards small and medium-sized businesses. We believe every company or project regardless of size deserves to be treated as a top priority. Whether you are looking for managed services or baseline consulting we promise to give you our utmost attention to detail. By focusing on this underserved market, we believe that we can provide superior service, give back to the community, and keep costs reasonable. By keeping the cost of services down, we can secure businesses' assets and help them stay safe and operating.

(MSSP) Managed Security Service Provider
Our team of experts will work with you to customize a security solution that fits your specific needs and help you stay ahead of potential threats.

Threat
Monitoring
Our threat monitoring services provide 24/7 surveillance of your network, alerting you of potential threats in real-time so you can take swift action to protect your business.

Blue & Red Team Vulnerability Assessments
Our assessments simulate real-world attacks and identify vulnerabilities in your security defenses, providing actionable insights to strengthen your overall security posture.

Table Top
Exercise
Our table top exercises provide a simulated environment to test your incident response plan and improve your team's ability to effectively respond to potential cyber attacks.

Employee
Education
With over 10+ years of cybersecurity experience, our team will provide insight and training to your employees, helping to harden your company's overall cyber hygiene.

HIPPA
Compliance
We offer complete HIPPA compliance inspections. Help keep your patient records safe from malicious attacks.
At Cyber Vast Consulting, LLC, our mission is to provide top-quality cyber security services to small and medium-sized businesses. We believe that cyber security is essential for all organizations, and we are dedicated to helping our clients achieve a higher level of security through our services.
Our commitment to quality service is evident in everything we do. We strive to provide our clients with the best possible experience, and we are always available to answer questions and address concerns. Our goal is to build strong, long-lasting relationships with our clients, based on trust, transparency, and mutual respect. We understand the unique challenges that small and medium-sized businesses face when it comes to cyber security, and we are dedicated to helping them navigate these challenges with confidence. We work closely with our clients to develop customized solutions that meet their specific needs, and we are always available to provide ongoing support and guidance. At Cyber Vast Consulting, LLC, we are passionate about cyber security, and we believe that everyone has a right to a safe and secure online experience. We are committed to staying up-to-date on the latest trends and developments in the field, and we are dedicated to sharing our knowledge and expertise with our clients.
In short, our mission is simple: to provide top-quality cyber security services to small and medium-sized businesses, with a focus on quality service, good customer relationships, and dedication to cyber security.
Book Your Free Consultation
Our team is composed of knowledgeable and experienced professionals who are committed to providing you with the highest level of customer service.
In the OT environment time is money, and downtime is death. Is your OT environment protected? If you own or operate a manufacturing facility more than likely you have...
Book Your Free Consultation